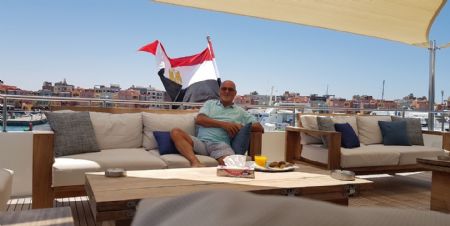 Annibale
71 years old, Cairo, United Arab Emirates
AWARDS:
1978 Honoured by HM Queen Elizabeth II
The Queens Award for Tourism (under Export Achievement)
1998 Honoured by H.E. Prime Minister Chuan Leek Pai
The Friends of Thailand Award (For Tourism)
2002 Honoured by H.E. Juthamas Siriwan
Governor of Tourism Authority of Thailand
The Friends of Thailand Award International Media (writer)

DIPLOMAS
VIS Rome Italy International Cooperation and Development.
Rina Genova, Safety Training Certification Quality System for Costa Cruises.
Johnson & Wales University Costa Cruises Diversity Management Development Programme.
PROFILE
Enthusiastic, with a yes can do attitude.
LANGUAGES
Italian Mother tongue, English Fluent to mother tongue, Spanish Fluent, French Good, Arabic Beginner.
SKILLS
More than 35 years active experience in the field of travel Lived in (Years) 4 Spain, 12 UK, 4 America, 1 Cuba, 4 Kenya, 22 Egypt, 10 Thailand Far
EMPLOYMENT HISTORY
Present Film/TV/Commercial Enjoying being part of the acting world with some speaking parts.
2010 - 2020 Freelance Tour Escort/Manager tour operator.
2007 - 2009 Costa Cruises Genoa Italy. Cruise Conferencier, in four different languages: English, Italian, French, and Spanish.
Highlighting the cruise itinerary, with history, curiosity, and places to visit.
2006 - 2008 UN/IUCN. - The World Conservation Union MARKETING AND TOURISM CONSULTANCY
http://www.eeaa.gov.eg/portals/0/eeaaReports/NCSCB/Specific%20Reports/Sustainable%20Tourism%20in%20Siwa.pdf
1990 - 1999 Gastaldi tours - Bangkok Coordinating regional offices in: Singapore, Jakarta, Bali, Hong Kong, Vietnam.
1988 - 1990 Viaggi Rallo - Resident Manager Cairo Egypt,
1980 - 1988 Visitando Il Mondo - Overseas Resident Manager - New York, USA. - Varadero Cuba - Kenya.
1974 - 1979 Travel England (part of the Travel Scotland Group) Operations Manager - based in London.
1969 - 1974 Club 18-30 Holidays London, England. Representative for British Holidaymakers. Greece: Athens Glifada. Spain: Majorca, Ibiza, Benidorm, Torremolinos.
Physical info
---
---
---
---
---
---
---
---
---
---
Ethnicity:
Caucasian - White
---
Experience
Modelling experience: None
Acting experience: None
Singing experience: None
Dancing experience: None
Performed on film/TV
Performed in TV commercials
Performed in TV series
Job interests
Movie/TV - acting
Movie/TV - extra